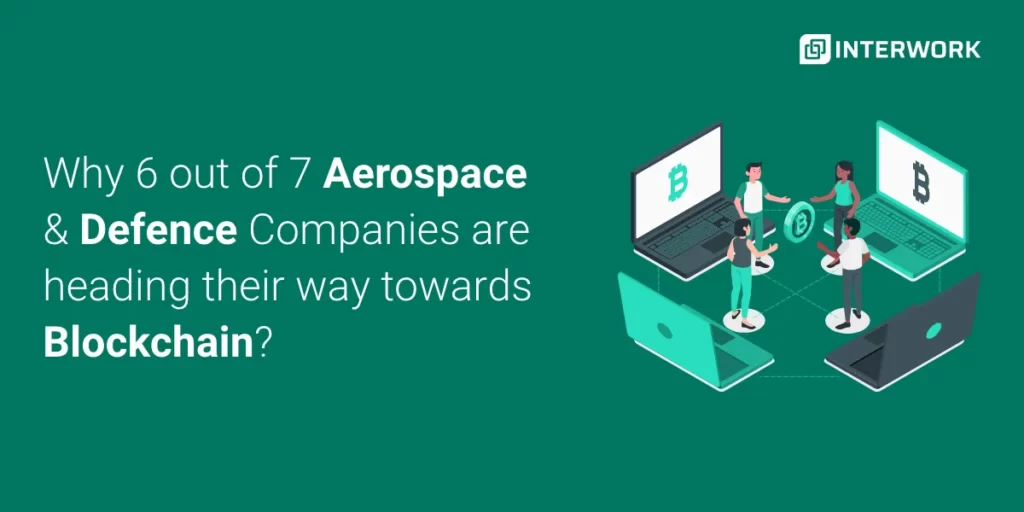 Why 6 out of 7 Aerospace and Defense Companies are Heading Their Way towards Blockchain? 
Introduction
Blockchain has been touted as an Incorruptible, Secure, Auditable and Decentralized digital ledger for storing data. Every transaction is validated by all the members (called nodes) after which they get confirmed and grouped in a block of data. Every new block of data becomes a chain of consecutive data that can be traced back to the original transaction.
Blockchain technology is still in a growing stage. Aerospace & Defense (A&D) companies can make a systematic approach to demonstrate the business value of Blockchain and set milestones in their digital approach. According to a recent report by Accenture, 6 out of 7 Aerospace/Defense are expecting to integrate Blockchain in their systems by 2021.
Why is Blockchain Relevant for the Aerospace and Defense Industry?
Aerospace and Defense companies are already using multiple technologies, from ERP to PLM, to custom solutions, the list is huge. These technologies aim to reduce operational efficiencies and improve quality. Even after their implementation, challenges are still persistent in this sector that includes:-
Management of enterprises beyond tier-one suppliers.
Delivery of new value-added services in the aftermarket.
While handling costs at the same time.
The Blockchain is meant to surpass these limitations and can complement prevailing technology investments.
Features of the Blockchain suit the enduring needs of the A&D industry, and therefore, Blockchain can prove to be valuable. Below are the characteristics of Blockchain that can fulfil the A&D industry needs:
Immutability
The Aerospace and Defense industry deals with both private and public sector clients, involving huge transactions which can't be compromised at any cost. These industries possess a need for tracking and inspecting transactions through different operational and supply chain partners. The Blockchain is Immutable, which means its data cannot be altered without the authentication of all the stakeholders involved. It acts as a single source of truth for all the nodes (stakeholders).
Auditability
Auditing is an imperative part of any organization, as it helps companies to monitor their data and determine the loopholes in their organization. The Aerospace and Defense industry is no exception. It is also looking for ways to promote ownership and accountability. Blockchain can deliver value to the business by providing real-time tracking and tracing. It creates an unfailing and accurate audit trail that provides transparency by validating each and every data modification.
Cost Efficiency
When Implementing new technology, every company looks out at their budget and then makes necessary decisions. The A&D industry is dependent on its existing technology needs something that can expand its proficiencies without compromising current technology investments. Blockchain can reduce costs by eliminating the need for intermediaries and by cutting down operational costs involved in settlements. It can easily supplement the present technology, adding an extra security layer to it.
Decentralization
Aerospace and Defense companies often face a challenge in managing supply chain reflectiveness and transposition across all levels of the supply chain. Blockchain being a decentralized digital ledger provides the purest, most validated and most comprehensive information possible. Assets are controlled and validated by their owners through a consent-based mechanism, and not by some third-party curators.
Security
Providing data security to the entire extended enterprise is a challenge for the Aerospace & Defense Industry. Through cryptographic encryption and hashing, Blockchain makes data secure, even when it is being transferred from one place to another. There is so much of computing power required for hacking a Blockchain that it becomes economically illogical for a hacker to steal any information since that much computing power can only be bought with a lot of money.
How Can Blockchain be Utilized in the Aerospace and Defense Industry?
Supply Chain Tracking & Configuration Mapping
Blockchain can help in eliminating the risk of fake data; it validates the authenticity of the information to create a secure and unchallengeable chain of data. It can track and deliver reliable aircraft configuration data during the course of the supply chain. The configuration data of airlines, aircraft constructors, and maintenance providers, are stored in their individual systems and they hardly tally their data with other parties' data.
It's really important to know about the actual configuration of an in-service aircraft, and Blockchain provides a way where Aerospace and Defense companies can securely share, capture and validate data from a single source.
Manage Privileges and Rights for Software, Services, and Warranty.
At times, it becomes difficult to confirm the rights of employees, partners, and customers to use the software, or services, or avail of a warranty. Blockchain can enable disseminated digital rights management for technical publications and engineering data. Since it is a transparent network; the information is known to all the authenticated users, eliminating any chances of discrepancies and data mismatches.
Maintenance and Overhauling
Various parts of an aircraft have different maintenance cycles. They need to be sent to workshops for service work. These workshops offer different services, turn-around times, and prices. Managing all these factors and bringing out the best alternative manually is a tedious task.
Pre-defined Smart Contracts can perform these tasks autonomously reducing the cost of maintenance, and downtime, and increasing operational efficiencies. This can possibly cut down the chances of aircraft failures in the future.
Certification of People and Parts
Allowing only authentic parts to enter the system and authentic people to use the system is even more important in the Aerospace and Defense Industry. Hence, their certification becomes an absolute necessity. Blockchain can be utilized to attach attributes to the digital form of the assets and certify them, publishing specific certificates for the whole network to access.
Conclusion
Blockchain is a new technology which is full of promises, but they are still not proven in large-scale deployments. Before exploring the promises made by Blockchain, Aerospace and Defense companies should follow an organized methodology intended to determine the organization's business value. This will help them in identifying the capabilities of Blockchain to meet their specific requirement.
From supply chain to configuration management, Blockchain is sure to help Aerospace and Defense companies to beat their challenges and open doors to new opportunities for collaboration.