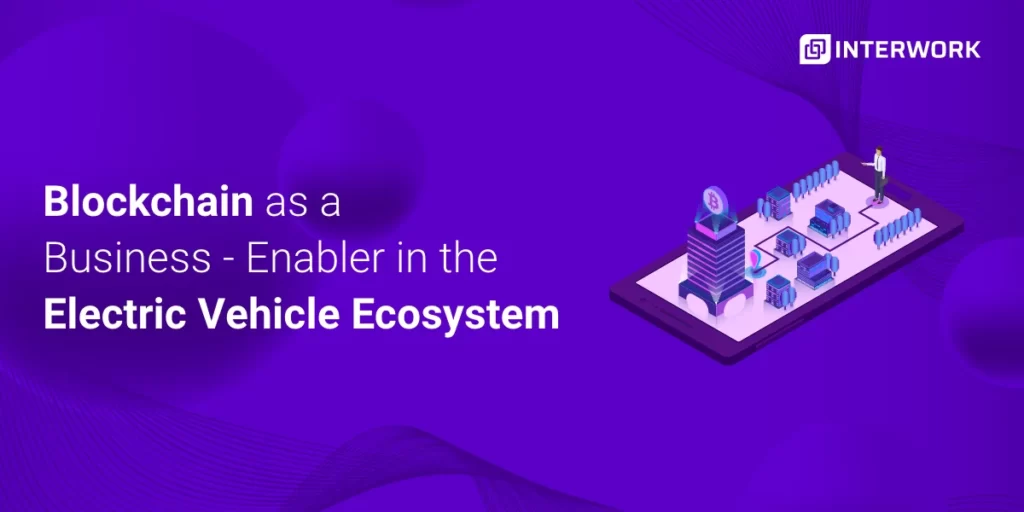 Blockchain As A Business-Enabler In The Electric Vehicle (EV) Ecosystem?
A paradigm shift in the automobile industry is changing the kind of vehicles people will drive in the future. The alarming scarcity of the increasing fossil fuel usage is adding to the climate change problem. Recently UNICEF has rolled out a report that we are left with less than 18 months to act for saving the earth from irreversible climate change and natural loss. Blockchain for EV is undoubtedly capable of turning to rescue.
It is a situation of emergency for the global climate and a massive business opportunity for electric vehicle manufacturers to take the lead in a transformation that is about to hit the automobile industry. All major automobile manufacturers have collectively pledged that they will eliminate all vehicle products from their product line by 2030. Countries like Norway, India, UK, and even the most significant pollution contributor, China is looking to bring electric vehicles onto the road by 2023.
How can Blockchain for EV be an Enabler for The Manufacturing Business?
360° Supply Chain Management, Cost Reduction, Phase Tracking and Curbing Counterfeits
EV manufacturing is a complicated business process involving a large number of raw materials and will scale from numerous vendors and third-party manufacturers. Blockchain for Electric Vehicle Manufacturers is capable of providing a 360° Supply Chain Management Solution. Transaction management governs immutable data records.
Further, they are maintained on a decentralized database. It can help to scale aggressively. Records are used and documented for future reference and authenticity.
The Blockchain-Based Solution is a must for allowing electric vehicle manufacturing business to be more profitable. Consequently, it reduces complexities, manufacturing budget, and overall human labour costs. The complicated business process will be superimposed on a comprehensive system. It will require a lesser number of people with a well-designed digital system to work.
Keeping data recorded as smart contracts and approving vendors will also enable EV manufacturers to a great extent. They will allow them to track shipments and the overall phase of electric vehicle batches through the supply chain management system. The distinct ability of smart contracts also enables EV manufacturers to drastically reduce the possibilities of spare part counterfeiting during manufacturing and servicing.
Battery Performance Monitoring 
A significant uncertainty that holds people from buying EVs is resale value. The resale value of any vehicle depends upon its performance. In the case of an EV, the costliest component is a battery. A Blockchain-Based System for EV batteries can help in documenting the performance metrics and related data of every car. Blockchain for EVs can host smart contracts that are regularly verified and updated for each vehicle that will hold a corresponding published smart contract. Blockchain has a paranormal capability of documenting the history of transactions. It will comprehensively store all battery charging, recharging, maintenance, and repair transactions that can be quickly recorded for each car. It will help people assess the real resale value with disruption by Blockchain for EV.
Blockchain for Electric Vehicle Charging & Battery Swapping
It is one of the first uses of Blockchain for EV and has been aggressively implemented on a large scale all across the world. Blockchain for Electric Vehicle Charging & Battery Swapping creates a peer-to-peer network for connecting people to share their electric vehicle charging posts. It helps them when they are out on trips or at far-off locations away from their charging dock.
Blockchain for EV is undoubtedly capable of driving large-scale adoption of electric vehicles. The solution has certain shortcomings, but it can handsomely solve the problem of range anxiety and the availability of charging posts at far-off places.
Investment in Technology for Stellar Future Growth 
Blockchain for electrical manufacturers is bringing them a lot closer to real-time implementation of electric vehicle manufacturing project. Timely investment in numerous technologies with a farsighted approach can help electric vehicle manufacturers gain top positions in the market and aggressively capture the market. It is highly beneficial for a futuristic brand image and an enriched perception in the eyes of the common man.
Tax Reductions & Government Subsidies 
In the US, the overall cost of electric vehicle manufacturing will increase by $5000-$7500 if subsidies are revoked on the same. The dire need for changing the present climatic scenario and the emergency of alarming fossil fuel use is compelling governments to provide subsidies. It can be used as an opportunity by EV manufacturers to build more sustainable and cost-effective business models.
Conclusion 
Blockchain for EV opens up an all-new world of prospects for electric vehicle manufacturers. Interestingly, it is not going to stop anywhere soon. Blockchains for electrical manufacturers have acknowledged and verified these prospects in the long run from a farsighted approach. Companies like Ford, Volkswagen, BMW, and GM are building consortiums and collectively looking to adopt Blockchain for Electric Vehicle Manufacturers.
Electric vehicle manufacturers have expressed an explicit intent to aggressively exploit the power of Blockchain for EV. Consequently, there lays a vibrant proposition built around Blockchain for Electric Vehicle Charging & Battery Swapping. Now leading Blockchain Development Company is gearing up for robust, high-performance, and business-driven solutions for the automobile space of tomorrow.